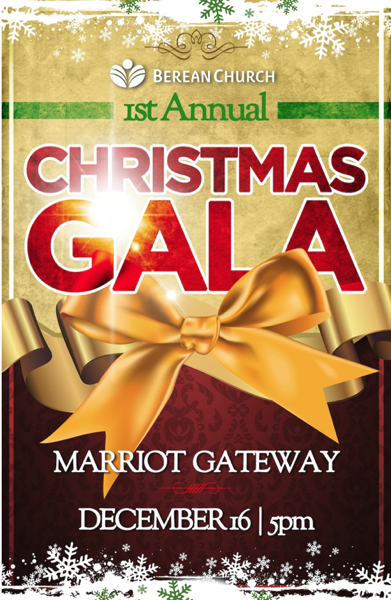 "Thou shalt not also go into the house of feasting, to sit with them to eat and to drink.  For thus saith the LORD of hosts, the God of Israel; Behold, I will cause to cease out of this place in your eyes, and in your days, the voice of mirth, and the voice of gladness, the voice of the bridegroom, and the voice of the bride." — Jeremiah 16:8, 9
It is that time of year when the world ramps up into a frenzied season of holiday revelry, celebrations, gift buying, folly, and endless madness and woe better known as the Christmas season. And what are Seventh-day Adventists doing during this time of pagan high masses and drunkenness? It seems that the steady downward spiral into worldliness continues unabated as churches promote Christmas galas, concerts, bazaars, and the what not. The popular trend this season appears to be church sponsored "galas" such as the lavious spectacle being promoted by the Berean S. D. A. church in Atlanta, Georgia as seen in the promo flyer above (the event description is almost to shocking to publish). This church is one of the largest black congregations in the United States (4000 + members) and has already established a record of apostasy from God's Word by embracing and promoting the spiritual formation movement despite warnings from the church leadership. Numerous other churches are also promoting their Christmas galas as listed below.
For those who may not be familiar with the term "gala" which is used in common with these churches it is defined in the dictionary as:
n. 1. A festive occasion, especially a lavish social event or entertainment.
It is derived from an Old French word, galer, meaning to make merry. The following statement from inspiration gives us a fairly clear picture of what it means to make merry.
"Infidelity runs riot. Professed Christians not only disclaim all faith in the warnings of future judgments upon the world, but they deny the record of past judgments. . . . In the days before the flood, it is written that "the wickedness of man was great in the earth, and every imagination of the thoughts of his heart was only evil continually." "The earth also was corrupt before God, and the earth was filled with violence." Here is a picture drawn by one inspired of God; and such, it is declared, will be the state of the world prior to Christ's second coming. In the days of Noah, men found their highest enjoyment in the gratification of sensual desires. This world was their all. "Eat, drink, and be merry," was the cry echoed from lip to lip. The same insane love of pleasure, the same all-absorbing spirit of worldliness, characterize the people of this age. How little do they consider that their deeds and words are passing into judgment, and that every sin must have its retribution in the future!"  Review and Herald, February 28, 1882 par. 4
Sadly, world loving Seventh-day Adventists who attend these gala events tend to ignore the warnings of this dangerous trend given to us many years ago . . .
"I am filled with sadness when I think of our condition as a people. The Lord has not closed heaven to us, but our own course of continual backsliding has separated us from God. Pride, covetousness, and love of the world have lived in the heart without fear of banishment or condemnation. Grievous and presumptuous sins have dwelt among us. And yet the general opinion is that the church is flourishing and that peace and spiritual prosperity are in all her borders.

The church has turned back from following Christ her Leader and is steadily retreating toward Egypt. Yet few are alarmed or astonished at their want of spiritual power. Doubt, and even disbelief of the testimonies of the Spirit of God, is leavening our churches everywhere. Satan would have it thus. Ministers who preach self instead of Christ would have it thus. The testimonies are unread and unappreciated. God has spoken to you. Light has been shining from His word and from the testimonies, and both have been slighted and disregarded. The result is apparent in the lack of purity and devotion and earnest faith among us." Testimonies, Vol. 5, p. 211
Though many Seventh-day Adventists will still continue to justify their love of the world by participating in various Christmas holiday events, including the insidious and jealousy breeding custom of seasonal gift giving on a basis of emotions and love sick sentimentalism. Nonetheless the Word of God cannot be slighted with impunity and there will be a faithful remnant who will not fail to heed the following counsel.
"There is a spirit of worldliness coming into the church, and it must be firmly met and rebuked. If this is not done, there is a failure to make known the whole counsel of God. Unless we humble our hearts before God, unless we seek him earnestly, we shall be overcome by the temptations of Satan; and those whom we neglect to warn, to reprove, to exhort, with all long-suffering and doctrine, will be ensnared by his devices, and we shall not be guiltless." Review and Herald, April 8, 1884 par. 9
This website will continue its annual tradition of crying aloud against these abominations in God's last day church and call for earnest reform lest we be spued out of the Lord's mouth in the soon coming judgment of the living which first begins at His church (1 Pet. 4:17). For our prior posts warning against this paganized trend in our beloved churches please visit the following links. Also, please read the Tract No. 13 entitled "Christ's Greetings" and share with your friends so that they can understand the true principle behind "every good gift and every perfect gift is from above and cometh down from the Father of lights, with Whom is no variableness, neither shadow of turning." – James 1:17.
What About Christmas Observance for SDA's? (2010)
Christmas for Seventh-day Adventists? (2011)