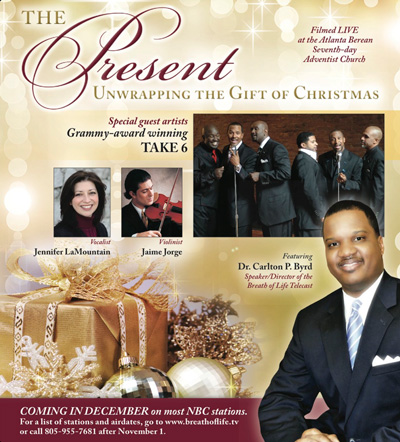 "Every good gift and every perfect gift is from above, and cometh down from the Father of lights, with whom is no variableness, neither shadow of turning."— James 1:17
It has come around to that time of year when the topic of Christmas observance heats up within Adventist circles. Our new president Elder Ted Wilson has been calling for revival and reformation since he took office in 2010. Has there been any impact on church practices especially in regard to the observance of this well documented pagan custom? The flagship website for the church (http://www.adventist.org/) once again offered up their Christmas wishes albeit at the last moment (see screen shot below). What can abate the tide of worldliness that continues to drag the church down into a lower spiritual ebb as the trend of Christmas friendliness continues in individual churches as evidenced by the high profile Christmas program being done by the Berean Seventh-day Adventist church in Atlanta, Georgia which will be televised nationally on most NBC stations (see their YouTube video promo). Yes, the world is going to take notice of how Seventh-day Adventists stand in regard to this heathen custom that most thinking folks know has nothing to do with the commandments of God and the faith of Jesus. The shepherds-rod-speaks.org blog posted on this subject last year and it was our top recommended post.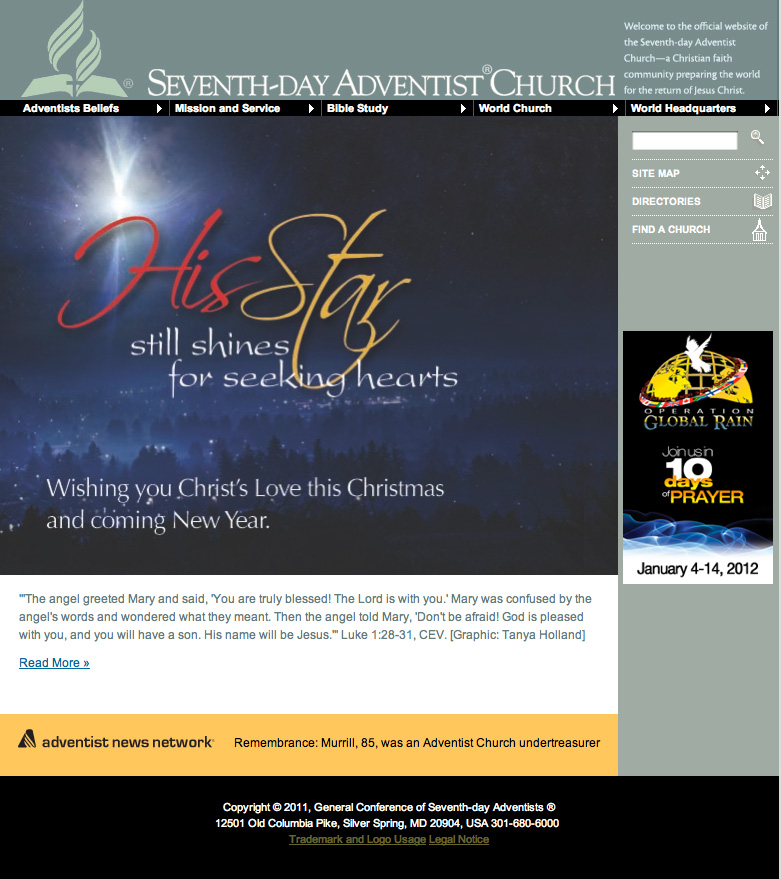 Despite the fact that last year the church on its flagship news site (Adventist News Network) has made the almost preposterous claim that Christmas does not have pagan origins after all, perhaps in a PR effort to placate the laity, some of whom maybe asking questions or voicing there concerns about this promiscuous relationship with the world and its customs. Thus as a clarion call to return to our Biblical foundation of faith, the Shepherd's Rod message of true revival and reformation has published an all sufficient guide to the subject of seasonal gift giving in contrast with the perfect gifts that come from above found in Tract No. 13 entitled "Christ's Greetings".  Also the links below provide thorough and adequate evidences that Christmas has its roots in grotesque pagan festivals and has nothing to do with Christ's birth or any reasonable Bible practice and thus should be shunned for what is really is, nothing more that a baptized heathen custom and an abomination in the sight of God.
Christmas, Easter, and Halloween: Where did they really come from? (a study from Vance Ferrell, PDF)
"The Real Story behind Christmas" by Rabbi Lawrence Kelemen (a nice audio lecture that will open your eyes)