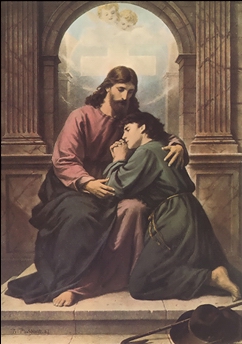 This post is a continuation from last week on the subject of righteousness by faith and what it means to be justified in Christ and become a qualified soul winner. This present reading from the original Shepherd's Rod message contains many quotes from a book entitled "Christ Our Righteousness" by A.G. Daniels. This is a highly recommended read as it contains an eyewitness account of some of the important themes that were presented at the infamous 1888 General Conference Session in Minneapolis on this subject by Elders A. T. Jones and E. J. Waggoner which was rejected by most of the church leaders and prevented what could have been the close of the gospel in a few short years.
"A serious reflection on our duty in soul-winning, will not only enlighten us on the principles of Gospel missionary work, but will also stimulate a heart-searching investigation and scrutiny of our lives—past, present, and future.
The Lord says: "So thou, O son of man, I have set thee a watchman unto the house of Israel; therefore thou shalt hear the word at my mouth, and warn them from me. When I say unto the wicked, O wicked man, thou shalt surely die; if thou dost not speak to warn the wicked from his way, that wicked man shall die in his iniquity; but his blood will I require at thine hand. Nevertheless, if thou warn the wicked of his way to turn from it; if he do not turn from his way, he shall die in his iniquity; but thou hast delivered thy soul." Ezekiel 33:7-9.
"And he said unto them, Go ye into all the world, and preach the gospel to every creature." Mark 16:15.
"But ye shall receive power, after that the Holy Ghost is come upon you: and ye shall be witnesses unto me both in Jerusalem, and in all Judea, and in Samaria, and unto the uttermost part of the earth." Acts 1:8.
These scriptures bring to us a vivid realization of the nature and extent of our duty to all the souls we meet and are associated with. Both at home and abroad, personally and by proxy, we are to labor to do good unto all humanity, giving the light of the Third Angel's Message, and witnessing to what Jesus our Savior has done for us in delivering us from the guilt and power of sin.
Missionary work may appear to us as a duty, and it may even be burdensome, as duties have a way of being, but if the love of Jesus has been shed abroad in our hearts by the Holy Spirit, we will ever esteem it our highest and most joyful privilege to win souls for Him. The love of Christ constrains us to seek for the lost and perishing (2 Cor. 5:14), and to know that we are cooperating with heavenly agencies in saving souls from the darkness of this world (Col. 1:12-14; Acts 26:18).
When the Master sent forth the twelve on their first missionary journey, He enunciated the principle, "freely ye have received, freely give." Matt. 10:8. He gave them power over the power of the enemy, over disease, and also power to preach the Gospel. And today it is just as necessary that we have these gifts as it was that the disciples had them. He says, "Without Me ye can do nothing." John 15:5; Vol. 5, p. 159. "I counsel you to tarry at Jerusalem, as did the early disciples, until, like them, you receive the baptism of the Holy Spirit." It is not hard to see that in these days much of the missionary work done comes far short of exhibiting the power and character that attends this gift.
A great many confine their missionary efforts to the propagation of the doctrines and the prophecies of the Message, while Christ and the Gospel of salvation are either entirely left out, or are only occasionally mentioned as hardly more than matter of history. The result is that to those who receive such a devitalized message, Christ has not become the Minister of circumcision of the heart (Rom. 15:8; Rom. 2:29), that the body of sin might be destroyed, and that henceforth they should not serve sin in the lusts thereof (Rom. 6:6-8). Such emasculated missionary work is what brings tares into the church, and of such work the Lord says:
"Woe unto you, scribes and Pharisees, hypocrites! for ye compass sea and land to make one proselyte, and when he is made, ye make him two-fold more the child of hell than yourselves." Matt. 23:15.
Every tree bears fruit after his kind; like begets like. A stream can rise no higher than its source. Likewise they who labor in God's vineyard can raise their converts no higher spiritually than they are, themselves. This is a very solemn thought, and should lead us to deep searching of heart. When the message is preached by the arguments and wisdom of man without the power and demonstration of the Spirit (1 Cor. 1:17), the hearers of the Word, though intellectually convinced of the arguments, are left unconverted to Christ, with the result that Christ's salvation is useless to them, and that when He calls them, they know not His Voice.
In Romans 3:1, 2 and Rom. 9:3-5, Paul places a high estimate on the possession of doctrinal knowledge, but the possessor may be like Nicodemus to whom, though a teacher in Israel, the new birth was a mystery. And such, Christ said, cannot enter the kingdom of heaven, or even see it.
Today there are many who know all the doctrines of our faith, and who are even able to defend them against any opposition. They profess to be God's commandment keeping people, but are altogether unacquainted with Jesus Christ. Many who have been in the church for years have never experienced John 3:16 or Rom. 5:1-5.
Regardless how long one's name may have been on the Church record, if he is not born again (justified by faith), he is out of Christ, and is alien to the blessings of the Gospel.
"There is not one in one hundred who understands for himself the Bible truth on this subject (justification by faith) that is so necessary to our present and eternal welfare."—"Christ Our Righteousness," p. 106.
"Some of our brethren are not receiving the message of God upon this subject. They appear to be anxious that none of our ministers shall depart from their former manner of teaching the good old doctrines. We inquire, is it not time that fresh light should come to the people of God, to awaken them to greater earnestness and zeal? The exceeding great and precious promises given us in the Holy Scriptures have been lost sight of to a great extent, just as the enemy of all righteousness designed they should be. He has cast his own dark shadow between us and our God, that we might not see the true character of God. . . . As a people, we have preached the law until we are as dry as the hills of Gilboa, that had neither dew nor rain."—"Christ Our Righteousness," p. 64, 65.
"The watchmen are responsible for the condition of the people, . . . The very ones who should be most active and vigilant in the hour of peril are neglecting their duty and bringing upon themselves the blood of souls."—"Testimonies," Vol. 5, pp. 235, 234.
"Our doctrines may be correct; we may hate false doctrine; and may not receive those who are not true to principle; we may labor with untiring energy; but even this is not sufficient. . . . A belief in the theory of the truth is not enough; to present this theory to unbelievers does not constitute you a witness for Christ."—"Review and Herald," Feb. 3, 1891; "Christ Our Righteousness," pp. 98, 99.
"How much more power would attend the preaching of the word today, if men dwelt less upon the theories and arguments of men, (I Cor. 1:17) and far more upon the lessons of Christ, and upon practical godliness."—"Review and Herald," Jan. 7, 1890; "Christ Our Righteousness," p. 99.
"The greatest deception of the human mind in Christ's day was, that a mere assent to the truth constitutes righteousness. In all human experience a theoretical knowledge of the truth has been proved to be insufficient for the saving of the soul. It does not bring forth the fruits of righteousness. . . . The same danger still exists. Many take it for
granted that they are Christians, simply because they subscribe to certain theological tenets."—"Christ Our Righteousness," pp. 99, 100.
"The ministers have not presented Christ in His fulness to the people, either in the churches or in the new fields; and the people have not an intelligent faith. They have not been instructed as they should have been, that Christ is unto them both salvation and righteousness."—"Christ Our Righteousness," p. 111.
"This I do know, that our churches are dying for the want of teaching on the subject of righteousness by faith in Christ, and on kindred subjects."—"Christ Our Righteousness," p. 113.
These facts reveal the direct cause of the downfall of Laodicea, and unerringly point to the remedy.
Whenever men and women who have not experienced the new birth, engage in missionary work for others, they can lead them, not to Christ, but only to the theories of the doctrines. The worker who has not been washed in Jesus' blood is as a blind man trying to lead the blind, or as a leper trying to heal a leper. Yea, in God's sight, he may be more guilty than the one for whom he is laboring." — Symbolic Code, Vol. 6, Nos. 1-5, pp. 14, 15