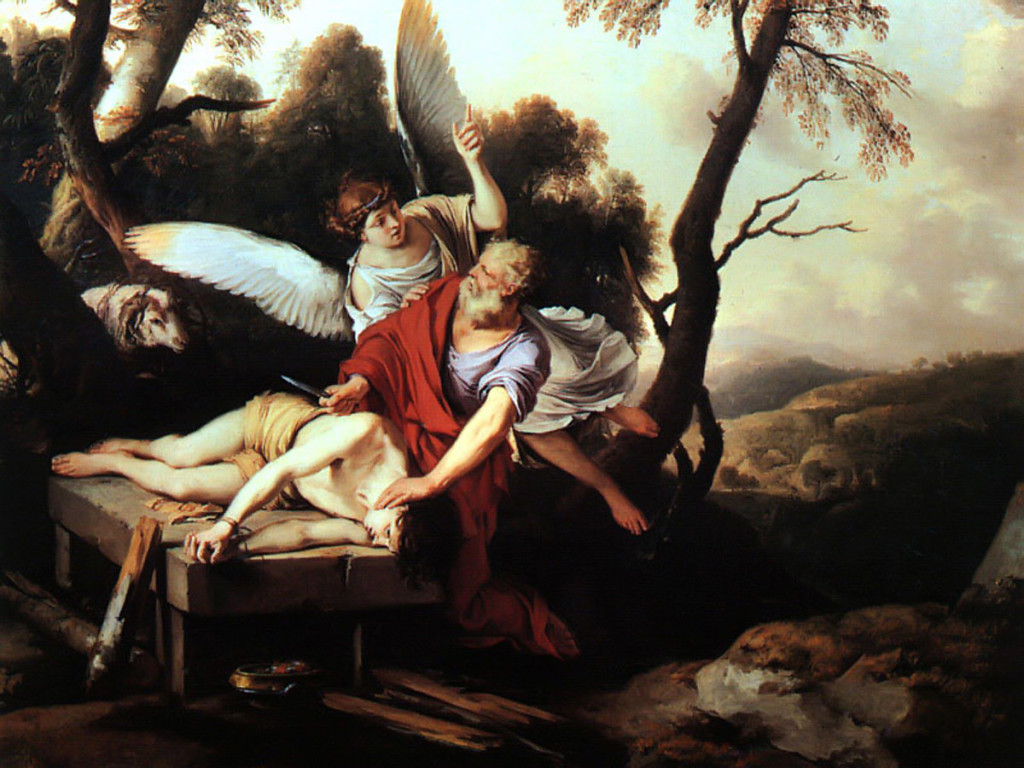 Justification by Faith:  What Is It?
All the blessings written in the preceding chapters (Shepherd's Rod Vol. 2) are apprehended in the following
Though this most important subject is the simplest of all Biblical truths, it has been widely confused, and largely misunderstood. The example of one man's experience in the things of God and his justification by faith, should clear the widespread confusion, and remove the veil which has been drawn over the eyes of the faithful. "To that also which is of the faith of Abraham; who is the father of us all. (As it is written, I have made thee a father of many nations), before Him Whom he believed, even God, Who quickeneth the dead, and calleth those things which be not as though they were." (Rom. 4:16, 17.)
When the method pursued by Abraham is followed, then, and then only, can any one of us be justified, there is no other way. "And if ye be Christ's then are ye Abraham's seed, and heirs according to the promise." (Gal. 3:29.) "If ye were Abraham's children, ye would do the works of Abraham." (John 8:39.) Let us take notice of Abraham's faith, experience, and justification. "Harken to me, ye that follow after righteousness, ye that seek the Lord: look unto the rock whence ye are hewn, and to the hole of the pit whence ye are digged. Look unto Abraham your father." (Isa. 51:1,2.)
In the following it will be noticed that Abraham responded without hesitation to all God commanded him to do: "Now the Lord said unto Abram, Get thee out of thy country, and from thy kindred, and from thy father's house, unto a land that I will shew thee. . . . So Abram departed, as the Lord had spoken unto him. . . . And the Lord appeared unto Abram, and said Unto thy seed will I give this land: and there builded he an altar unto the Lord, who appeared unto him." (Gen. 12:1, 4, 7.) "And the Lord said unto Abram, after that Lot was separated from him, Lift up now thine eyes, and look from the place where thou art northward, and southward, and eastward, and westward: for all the land which thou seest, to thee will I give it, and to thy seed for ever. And I will make thy seed as the dust of the earth: so that if a man can number the dust of the earth, then shall thy seed also be numbered. Arise, walk through the land in the length of it and in the breadth of it; for I will give it unto thee. Then Abram removed his tent, and came and dwelt in the plain of Mamre, which is in Hebron, and built there an altar unto the Lord." (Gen. 13:14-18.)
"And God said unto Abraham, Thou shalt keep my covenant, thou, and thy seed after thee in their generations. This is my covenant, which ye shall keep, between me and you and thy seed after thee; Every man child among you shall be circumcised. . . . And Abraham took Ishmael his son, and all that were born in his house, and all that were bought with his money every male among the men of Abraham's house; and circumcised the flesh of their foreskin in the selfsame day, as God had said unto him." (Gen. 17:9, 10, 23.)
"And God said unto Abraham Let it not be grievous in thy sight because of the lad, and because of thy bondwoman; in all that Sarah hath said unto thee, hearken unto her voice; for in Isaac shall thy seed be called. And Abraham rose up early in the morning, and took bread, and a bottle of water, and gave it unto Hagar, putting it on her shoulder, and the child, and sent her away." (Gen. 21:12, 14.) "And it came to pass after these things, that God did tempt Abraham, and said unto him, Abraham: and he said, Behold, here I am. And He said, Take now thy son, thine only son Isaac, whom thou lovest, and get thee into the land of Moriah; and offer him there for a burnt offering upon one of the mountains which I will tell thee of. And Abraham rose up early in the morning, and saddled his ass, and took two of his young men with him, and Isaac his son, and clave the wood for the burnt offering, and rose up, and went unto the place of which God had told him. . . . And Abraham built an altar there, and laid the wood in order, and bound Isaac his son, and laid him on the altar upon the wood. And Abraham stretched forth his hand, and took the knife to slay his son. And the angel of the Lord called unto him out of heaven, and said, Abraham, Abraham: and he said, Here am I. And he said, Lay not thine hand upon the lad, neither do thou anything unto him: for now I know that thou fearest God, seeing thou hast not withheld thy son, thine only son from me. . . . And the angel of the Lord called unto Abraham out of heaven the second time, And said, By myself have I sworn, saith the Lord, for be-cause thou hast done this thing, and hast not withheld thy son, thine only son: That in blessing will I bless thee, and in multiplying I will multiply thy seed as the stars of heaven and as the sand which is upon the sea shore; and thy seed shall possess the gate of his enemies, And in thy seed shall all the nations of the earth be blessed; because thou hast obeyed my voice." (Gen. 22:1-3, 9-12, 15-18.)
"Abraham believed God, and it was imputed unto him for righteousness: and he was called the friend of God." (James 2:23.) By simply doing the things that God asked of him he obtained this record: "Because that Abraham obeyed my voice, and kept my charge, my commandments, my statutes, and my laws." "In thy seed shall all the nations of the earth be blessed." (Gen. 26:5, 4.) Having childlike faith in the Word, and doing all God has said, is the only sanctification and righteousness that is Christ's. Such are the children of Abraham, and to them is the promise. They openly declare that the blood of Christ has the power to save them from the bondage of sin, and from the condemnation of the law. They shall inherit the land for ever and ever. These are the Israel of God. There are no others, and this only is righteousness and sanctification by faith." — Shepherd's Rod, Vol. 2, pp. 298-300.