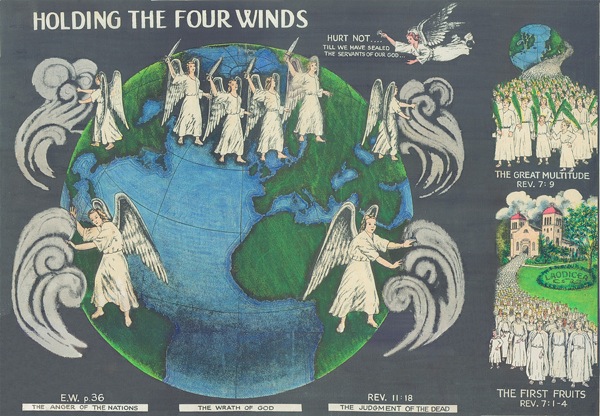 Recently we attended a Sabbath worship at a large Seventh-day Adventist church where the pastor presented a sermon on the subject of the 144,000. This is a rather unusual occurrence since this is a subject that is often muted and rarely discussed in Adventist circles. So with much anticipation we hoped that some light would shed on this important topic. Unfortunately the pastor's efforts left people more confused that ever. Here are a few highlights for illustration.
He began by answering a question that came from a recent seminar series which read:
Will there be more than 144,000 saved in heaven?
His reply: Yes, but the 144,000 will be the only ones saved alive because they are the living saints who will go through the 7 last plagues and be translated when Jesus returns. But there will be a great multitude that will be saved from the grave who will be resurrected.
One wonders what will happen to all those people that the 144,000 are supposed to call out of Babylon during the loud cry/latter rain period? Why are they not good enough for translation?
At one point he said it is not important to know whether the number is literal or symbolic. A few moments latter he said he leans towards symbolic. If this Seventh-day Adventist pastor is really not decided in his own mind on whether 12 X 12,000 = 144,000 then why does he preach it before 500+ of God's saints? If the 144,000 is not a literal number, then how are we certain that other important numbers in the Bible, such as 2,300, 1,260, 490, 70, 12, 10, 7, etc., are literal?
He also stated that the seal in Revelation 7:4 was the Sabbath. However, serious students of the Spirit of Prophecy know that the seal of the 144,000 is found in the ninth chapter of Ezekiel (TM 445, 3T 266-267, 5T 211), something the pastor failed to mention.
It is becoming increasingly apparent that the leaders of the Seventh-day Adventist Church have nothing to offer which clarifies this subject of the sealing of the 144,000 and what is the fate of those who are called out of Babylon during the Loud Cry.
If there was ever a time that God's people need an inspired commentary on this subject, it is now. By the grace and mercy of God such an analysis has been provided and circulated throughout the Adventist world for over 80 years. Why not come up see what God's Word has to say and receive a blessing that will sweep away the clouds of confusion that surround this and other hard to understand subjects in Bible prophecy by hearing the Rod and he who hath appointed it" (Mic. 6:9)? Below please click the links to study a Timely Greeting sermon address and a tract which discuss the sealing the 144,000 first fruits from Laodicea and the gathering the Great Multitude of second fruits that no man could number from out of Babylon during the Loud Cry.
If Only 144,000 Translated, What Chance for You?
The Shepherd's Rod, Vol. 1, Tract Ed.