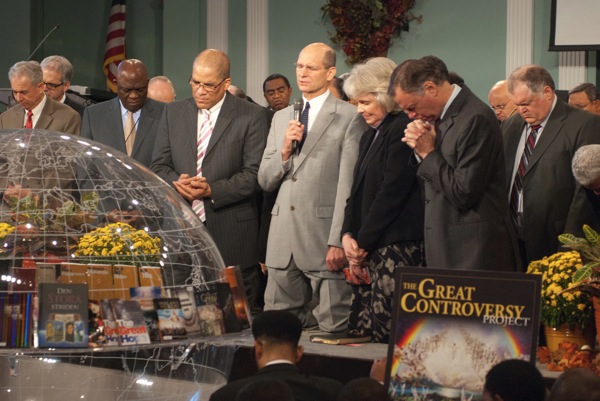 The leadership of the corporate Seventh-day Adventist church has gone so far to protect its trademarked names "Seventh-day Adventist"and "Adventist" that it has culminated with law authorities arresting the pastor of a small separatist group, "The Creation Seventh-day Adventist Church." Walter "Chick" McGill was arrested on Friday July 13, 2012 on the campus of Loma Linda University for refusing to comply with a Tennessee court order demanding that the group cease using the name "Seventh-day Adventist". The group formally separated from the corporate church in 1991 for various theological reasons and do not make any claims about being associated with them. However, on the basis of their religious convictions they still choose to use the name Seventh-day Adventist as they believe it represents a religious belief and not a the name of a state sanctioned corporation that is subject to trademark law. Lawyers from the Seventh-day Adventist church sued the group in 2006 and a series of legal hearings and appeals have gone on ever since leading to the issuing of arrest warrants for McGill and his associate Lucan Chartier in April of 2012. The legal details have been well documented and are available on one of the websites sponsored by the group (click this link.)
Although the church leadership goes to much effort to divert any discussion of the apparent hypocrisy of such actions in view of the church's long standing position as champions of religious liberty, for all those outside the fold, but not for those who consider themselves Adventists it seems. Popular media outlets such as local TV stations and newspapers have been reporting on this case for some time. It is just recently that  a couple of mainstream Adventist websites (Spectrum and Adventist Today) have begun to research into the matter and report on it (for a complete list of news reports on this case, please see the list below). The ensuing discussions have been quite lively. More conservative independent Adventist groups have also issued grave concerns over the conflict of the church's actions with scripture and the Spirit of Prophecy in this case and others. (For a well researched article on the general problem with trademarking the church's name, please see:  thethirdangelsmessage.com. For a deeper investigation into the religious liberty crisis within the church please visit religiouslibertyhoax.com).
Now that the church leadership has more fully revealed its true character by seeing to the arrest of those with whom they disagree but feel convicted to identify themselves as "Seventh-day Adventists", it remains to be seen how far they will go in using the legal arm of the state to silence what they consider to be dissident or "offshoot" groups under the Adventist umbrella. We believe that the behind the scenes working of the church leaders on this issue is not merely a coincidence. If they are so unscrupulous in their dark deeds to spend tens of thousands of God's sacred tithe to harass and silence a seemly insignificant group of less that twenty believers due to their severe case of identity crisis, then what is to stop them from going after groups which pose much more of a threat to their theological house of cards. Perhaps they feel confident at this time to go after McGill's group since they can fairly well defend against some of McGill's teachings such as the use of sacred names, keeping of the feast days, and non-trinitarianism. However, what happens when they line their sight on the group within the church that they despise and fear the most, the Shepherd's Rod? It will not be so easy for them to honestly address the Rod doctrines since they are solid Bible and Spirit of Prophecy backed and simply cannot be refuted. Their only recourse will be to use the age old tactic of attacking character and promulgating a refuge of lies against Davidians which they have done ever since the message arose in 1930 — the message that continues to bring  a call for revival and reformation that will lead to the latter rain to be poured out upon 144,000 consecrated Seventh-day Adventists who sigh and cry for all the abominations done in the church rather that sweep them under the rug. Yes it is trying times we live in and it will be interesting to see how this religious liberty crisis within the church continues to manifest itself as pressures mount.
ABC News Radio Online – Chattanooga
http://abcnewsradioonline.com/chattanooga/west-tennessee-pastor-arrested-on-contempt-of-court-charges.html
ABC7 News Coverage – Jackson, TN
http://www.wbbjtv.com/news/local/West-Tennessee-Pastor-Arrested-in-California-162632876.html
http://www.youtube.com/watch?v=ZszZ0RRYDiA&feature=youtu.be
CBS News – Memphis, TN
http://wreg.com/2012/07/17/pastor-arrested-amidst-church-naming-controversy/
Press Enterprise – CA
http://www.pastorwalterchickmcgilllawsuit.net/images/PE71512.jpg
http://www.pe.com/local-news/breaking-news-headlines/20120716-religion-pastor-may-be-returned-to-tennessee.ece
http://blog.pe.com/multicultural-beat/2012/07/16/tennessee-pastor-may-serve-entire-sentence-in-sb/
Redlands Patch – Redlands, CA Newspaper
http://redlands.patch.com/articles/detention-hearing-in-riverside-for-tennessee-pastor-arrested-in-loma-linda
http://redlands.patch.com/articles/update-details-of-arrested-tennessee-pastor-s-split-with-seventh-day-adventists#photo-10682806
http://redlands.patch.com/articles/detention-hearing-in-riverside-for-tennessee-pastor-moved-up-to-2-p-m
Adventist Today
http://www.atoday.org/article/1289/news/july-headlines/tennessee-man-jailed-for-insisting-on-using-the-name-seventh-day-adventist-despite-court-order
Spectrum Magazine
http://spectrummagazine.org/blog/2012/07/18/creation-seventh-day-adventist-pastor-imprisoned-fasting
Jackson Sun Newspaper, TN
http://www.jacksonsun.com/article/20120717/NEWS01/307170010 http://www.jacksonsun.com/article/20120716/NEWS01/120716004/Local-pastor-arrested-by-U-S-Marshals-California?odyssey=tab%7Ctopnews%7Ctext%7CFRONTPAGE