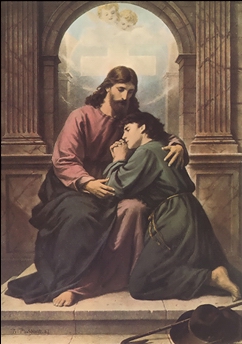 Righteousness By Faith.
"Now faith is the substance of things hoped for, the evidence of things not seen." Heb. 11:1.
Righteousness by faith is, therefore, the doing of deeds which only in faith bear the evidence of righteousness,—the substance sustaining the hope of something which does not now appear. For example, if, like Abraham, we do without delay all that God has revealed to us, even though we see ourselves unrighteous as did Isaiah when he saw the Lord (Isa. 6:5), then the moment we repent of, and forsake, our evil deeds, we accept, by faith, the unseen reality that the Lord has cleansed us from them. At that moment, we stand, in His sight, not in ours, "as white as snow." Isa. 1:18. This does not mean, however, that we now count ourselves to have reached perfection, and that we are no longer subject to sin, "for a just man falleth seven times and riseth up again." Prov. 24:16.
To illustrate: there are a man, woman, boy, and girl, who are always well-dressed and immaculately clean. Not that their clothes do not stain, nor ever wear out; they naturally do. That is something that cannot be avoided. Nevertheless, these persons always keep themselves spotless and clean. But how do they do it?—By simple, ceaseless care: they bathe as often as necessary, wash their clothes as soon as they begin to soil, and mend or replace them without delay. In like manner is the Christian's faith kept intact. He studies the Word of God, complies with all its requirements, repents as often as he sins, and arises and keeps in the race. And if he makes a mistake, he immediately corrects it.
Likewise if he offends, he without delay reconciles the offended one. He is not prejudiced. He does not find fault with others, but with himself. He does not criticize a brother for having a mote in his eye; rather, he pulls the beam out of his own eye (Matt. 7:3-5). He grants liberty of conscience to all, and delights to "let every man be fully persuaded in his own mind." Rom. 14:5. He does not impose his ideas and his standards of living upon others. He never demands confession, but is always ready to confess and to forgive. He "pleases all men in all things, not seeking" his "own profit, but the profit of many, that they may be saved." I Cor. 10:33. In thus complying with the golden rule (Matt. 7:12), by faith he keeps himself spotless while helping others. As a result, Christ freely cleanses him "with the washing of the water by the Word," and grafts him into the beautiful vine, the church. He does this, that He "might present . . . to himself a glorious church, not having spot, or wrinkle, or any such thing; but that it should be holy and without blemish." Eph. 5:27.
Thus one who lives righteously by faith obtains an eternal reward; whereas "the wicked" falls "into mischief," and like the praying Pharisee, thinking himself to be righteous, characteristically says: "God, I thank thee that I am not as other men are, extortioners, unjust, adulterers, or even as this publican." Luke 18:11.
We now live the life of Christ by faith; but in the kingdom—the substance of our hope—where "the evidence of things" is seen, we shall live by sight, "for now we see through a glass darkly; but then face to face." I Cor. 13:12. The life which we now live is a battle and a march; a defeat and a victory; a struggle to overcome. This daily battle between the Spirit of God and the spirit of man, the apostle Paul sets forth, as follows:
"For that which I do I allow not: for what I would, that do I not; but what I hate, that do I. If then I do that which I would not, I consent untothe law that it is good. Now then it is no more I that do it, but sin that dwelleth in me. For I know that in me (that is, in my flesh,) dwelleth no good thing; for to will is present with me; but how to perform that which is good I find not. For the good that I would I do not: but the evil which I would not, that I do. Now if I do that I would not, it is no more I that do it, but sin that dwelleth in me. I find then a law, that, when I would do good, evil is present with me. For I delight in thelaw of God after the inward man: But I see another law in my members, warring against the law of my mind, and bringing me into captivity to the law of sin which is in my members. O wretched man that I am! who shall deliver me from the body of this death? I thank God through Jesus Christ our Lord. So then with the mind I myself serve the law of God, but with the flesh the law of sin." Rom. 7:15-25.
This inner struggle with self is between our carnal and our spiritual natures.
Certain it is that what we by nature want is not what we really need. Likewise, that which we by nature aim to do, is not what we really need to do. In obtaining righteousness by faith, therefore, we choose to follow the opposite of our carnal minds and our natural desires and wants.
"Let the wicked forsake his way, and the unrighteous man his thoughts: and let him return unto the Lord, and he will have mercy upon him; and to our God, for he will abundantly pardon. For my thoughts are not your thoughts, neither are your ways my ways, saith the Lord. For as the heavens are higher than the earth, so are my ways higher than your ways, and my thoughts than your thoughts. . . . ye shall go out with joy, and be led forth with peace: the mountains and the hills shall break forth before you into singing, and all the trees of the field shall clap their hands." Isa. 55:7, 9, 12.
In view of this glorious prospect, no one should neglect the opportunity to become a candidate for
Change of Heart.
Why is the Lord to change our "stony hearts," and to give us "hearts of flesh," when we get to the promised land, and not now while we are among the nations (Ezek. 36:24-28)?
When Nebuchadnezzar's natural heart was replaced with a beast's heart, he was no longer satisfied to live like a human being, but was contented to live with the cattle of the field. Dan. 4:16, 33. But had he, while yet retaining the natural heart, been forced out of his palace, and compelled to feed with the cattle, the trial and humiliation would have been altogether too great for him to endure. Moreover, as such a life is contrary to human nature, he could not have subsisted on grass, nor could his digestive organs have stood up under such a heavy task. To make it possible, therefore, for a human being to go through such an unnatural experience, the Lord replaced his heart with a beast's heart, which automatically changed his nature.
Like Nebuchadnezzar during his wild-life experience, we, too, are living in a world that is unnatural to sinless beings. Consequently, if our hearts and thus our natures were changed now, while we are yet living among the sinful nations, we could no more endure the trial than could Nebuchadnezzar with his human heart have endured the winter exposure, or have enjoyed the company of the beasts, or yet relished grass and straw. Indeed, the fellowship of sinners, in the environment of sin, would be utterly desolating to a saint with a spiritual heart, upon which is written the law of God.
So to make endurable our days in this life, the Lord mercifully leaves us with our natural, stony hearts, to serve Him according to the provisions of divine grace. And though it is not convenient to do right even under this provision, it would be still less convenient for a saint with "a new heart" to live in the kingdoms of this world, for in an unrighteous environment his righteous heart would make him miserable. Neither could he, in the Kingdom of God, with his natural, stony heart, endure its enmity against the law of God, nor enjoy the glory of the Kingdom. In other words, whereas on the one hand with our spiritual hearts, in the midst of the kingdoms of sin, we would be excruciatingly miserable in beholding crime, accidents, corruption, disease, and suffering; on the other hand with our sinful hearts, in the sinless Kingdom, we would be intolerably unhappy with ourselves, and unable to enjoy the sublime bliss of peace and righteousness.
We are, therefore, for the time present, permitted to serve the Lord with our sinful nature; and our desires to do good, and aims to reach high, that are prompted by our faith in Him, are accounted to us for righteousness. This righteousness is His righteousness, in us by faith. We are, therefore, still in the period of conversion and sanctification by faith, looking forward to the time when the Lord will take us to our own land, and there give us new hearts (Ezek. 36:24-28). Then will we serve Him in holiness (Isa. 62:12). With such a glorious promise in view, wrapped in love divine, may everyone now exercise the faith of Christ, cultivate His righteousness, and so become eligible for the divine gift of a spiritual heart.–Symbolic Code Vol. 6, Nos. 7-12, pp. 2, 3.