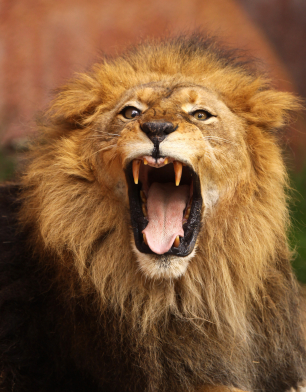 The corporate Seventh-day Adventist church has begun to roar like a lion by using the arm of the state to silence a small dissident church who believe they have a God given right to use the name "Seventh-day Adventist" to identify their beliefs and practices. Some of the legal facts of the case are summarized below with links at the end of this post to the supporting documents.
In a most important development on the religious liberty front, the United States District Court for the Western District of Tennessee Eastern Division recently issued an injunction and a contempt of court order against a small dissident church for non-compliance resulting from a lawsuit brought by the corporate Seventh-day Adventist church. The Plaintiffs are the General Conference Corporation of Seventh-day Adventists and the General Conference of Seventh-day Adventists. The Defendant is Walter McGill d/b/a Creation Seventh Day Adventist Church et. al. It is case No. 1:06-cv-01207.
A permanent Injunction (May 28, 2009) ordered the "defendant and his agents, servants and employees, and all those persons in active concert or participation with them, should be forever enjoined from using the mark Seventh-day Adventist, including the use of the words Seventh-day or Adventist, or the acronym SDA either, together, apart, or as part of, or in combination with any other words, phrases, acronyms or designs, or any mark similar thereto or likely to cause confusion. . . . Defendant shall file with the Clerk of this Court and serve on Plaintiffs within twenty (20) days after issuance of this Order, a report in writing, under oath, setting forth in detail the manner and form in which Defendant has complied with the forgoing injunction."
The defendant has been ordered to pay Plaintiffs some thirty-five thousand dollars for Plaintiffs attorney fees. Also "all persons acting in concert with Defendant including any website hosting companies and domain name registrars are hereby enjoined from using or enabling the use of such domain names and websites." (Over 25 websites are listed in the legal brief.)
Because of "Defendant's failure to act and to take down and/or dispose of signage and other promotional materials that are violative of the injunction, the Court hereby orders that such materials be seized for destruction by the United States Marshal."
On January 21, 2010, the following information was sent to Ms. Barbara McGill: "This is to advise you that on February 12, 2010 pursuant to the enclosed Order of January 5, 2010, we will appear at 1162 Old Highway 435, Guys, Tennessee in order to remove and permanently dispose of Defendant's signs and promotional materials that violate the Injuction Order. Accordingly, we will need you to allow us full access to the premises on February 12. We anticipate arriving at the premises in order to begin this work at approximately 11:00 a.m. and expect to complete this work by 1:00 p.m."  (The actual raid was rescheduled and took place on February 16, 2010, see our prior post on this case).
Also "the Court hereby Orders the arrest of Defendant, wherever he may be found within the jurisdiction of the United States, and his incarceration in this District pending his full and complete compliance with the Injunction Order. This Court will release him upon his full and complete compliance with the Injunction Order. The United States Marshal of this District is directed to take all appropriate steps to ensure that this order of arrest and civil commitment is executed wherever Defendant may be found within the United States or its territories including appropriate notification of the United States Customs Service."
http://www.loudcry.eu/protest/papers.pdf
http://mcnairycountynews.com/page3/page20/page20.html (scroll down to 2nd posting to see a photo image of the church signs being taken down.)