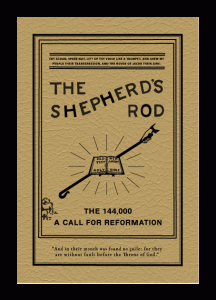 The primary purpose of The Shepherd's Rod is to unlock the long-concealed mystery concerning the ever-challenging and much discussed subject of the 144,000 (Rev. 14:1), with the central object in view of bringing about among God's people that "thorough reformation" foretold by the Spirit of Prophecy (Testimonies, Vol. 8, p. 251).
These truths, Divinely revealed, are of supreme importance to the church just now because of the trying, sifting circumstances through which God's people are soon to pass. Being vital concerns to salvation, they call for decided action from ministry and laity alike to separate themselves from all worldliness and to anchor themselves on the Solid Rock by obedience to all the truth known to the church, if they would escape the forthcoming ruin that is to take every sinner.
Its dominant doctrinal concern being the truth of the 144,000, and a correct understanding of it being a life-and-death matter to all, the Rod unfolds it from several different angles, each urging the Denomination to prepare for the glorious deliverance of the saints and against the in-glorious destruction of the sinners as fore-tokened by the marking and slaying recorded in Ezekiel 9.
No new denomination is advocated; on the contrary, such is unmitigatedly opposed. And finally, irrefutable proof is brought forth that the Seventh-day Adventist Denomination has been the instrumentality of God since 1844 to carry on His work on earth, and that the Rod adds "power and force" "to the third message."—Early Writings, p. 277.
Purporting to be the antitype of the first exodus, The Shepherd's Rod takes its name from Moses' rod, the instrument through which the Lord manifested His power in the deliverance of the children of Israel. The Shepherd's Rod, the only Rod that has ever spoken, is predicted and recommended in Micah 6:9: "Hear ye the Rod, and [Him] Who hath appointed It."
(This is the first revised edition of The Shepherd's Rod, Vol. 1, originally published in 1930. To make it a handy pocket-sized book, points since dealt with in other numbers of these series of publications have been omitted, and its subject matter condensed.)
In compliance with the Lord's command, we should now with open ears hear the Rod's message—
THE SEALING OF
THE FIRSTFRUITS—THE 144,000.
To continue reading from this tract, please click this link: Shepherd's Rod Vol. 1, Tract